ANNUAL LETTER
is one of our most highly demanded report released at the beginning of every year. Here is your chance to pre-order ANNUAL LETTER 2017 which covers medium / long term view on equities, precious metals, industrial metals, currencies, bonds, energy products for the year 2016.
A MUST HAVE EBOOK FOR INVESTMENT BANKERS, HNIs, TRADERS & INVESTORS! 
You also get access to a special offer with this product: Get 1 month of weekly newsletter + 1 week of daily newsletter + 1 week of live trading signals (worth over 350 USD)
ABSOLUTELY FREE
with this order.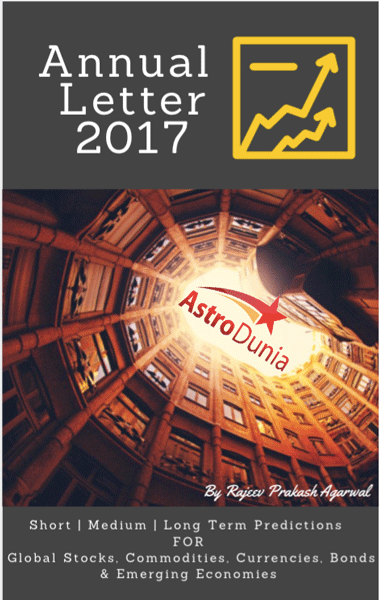 The Best Investment Guide for Investors in 2016 From 1st Dec, the PRE-ORDER price is 150 USD. DETAILS OF THE CONTENT:
GLOBAL STOCK MARKETS:
Contains view on major equity markets such as USA, Europe, China and India.
PRECIOUS METALS: 
The possible opportunities for medium-term traders in Gold and Silver
ENERGY PRODUCTS:
Make the best out of Crude Oil and Natural Gas
CURRENCIES:
Covers the possible directions in which currencies such as EUR, USD, INR & others * may trade in the year.
TREASURY BONDS:
Get to know how will bonds behave in the year 2016.
This report will also cover major turning dates and a lot more of comprehensive strategies that can make money for you in the upcoming year.
All of this ONLY for 100 USD / 6,000 INR .
PRE-ORDER NOW:
Buy Now via Paypal
|
Buy Now via Indian Credit Card / Debit Card / Net Banking
You can also make the payment via NEFT to our bank account with ICICI Bank. BENEFICIARY: ASTRODUNIA A/C NO: 004105500654 BRANCH: MALAV PARISAR, INDORE IFSC: ICIC0000041 SWIFT: ICICINBBCTS In case of payment by CASH DEPOSIT / NEFT, please drop an e-mail with details of payment made to astrodunia@gmail.com.
---
Welcome to Astrodunia, your very own astrology portal. This web site provides you with the latest predictions on stock market, commodity market & various personalised astrological services.

Daily technical and astrological predictions by Rajeev Prakash Agrawal for share and commodity market. (Monitoring and astrological prediction on the Indian Share market, Commodity Market and U.S. Share market since last 11 years with more than 92% accuracy. We also offer Packages for Stock Market and Commodity market.
For past logs, pelase refer to our prediction blog.

| Time Duration | Indian Stock Market | Indian Commodity Market | NYMEX/ COMEX (GOLD+SILVER+OIL) | COMEX/NYMEX+FOREX |
| --- | --- | --- | --- | --- |
| 3 Months | 30000 INR | 40000 INR | 2,000 USD | 3,000 USD |
| 6 Months | 54000 INR | 70000 INR | 3,600 USD | 5,600 USD |
| 1 Year | 100000 INR | 130000 INR | 7,000 USD | 11,000 USD |
LIVE TRADING CALLS + 24 X 7 SUPPORT
WE HAVE STARTED ACCEPTING PAYMENTS BY INDIAN CREDIT CARDS AS WELL. GO TO PAYMENT GATEWAY & enter the subscription fee.
FOR SUBSCRIPTION, YOU CAN USE THE CONTACT FORM OR SEND AN E-MAIL TO astrodunia@gmail.com or call us on +91-9669919000.
At Astrodunia, we provide various services to our clients as follows :
MCX Indices
| Commodity | Expiry Date | Price | Change |
| --- | --- | --- | --- |
| Commodity | Expiry Date | Price | Change |
| --- | --- | --- | --- |
Today's Stock Market & Commodity
ALERT: ARE YOU A POSITIONAL INVESTOR or TRADER IN GOLD, SILVER, CRUDE & BASE METALS. If you are interested for huge profits then contact me. - RAJEEV PRAKASH ( ASTROLOGER) MOBLIE-+919669919000 & +91 9301717647 or e-mail: astrodunia@gmail.com.
23 February 2017 :
View on Global Stock Markets:

As expected, the rally in market has slowed down. Market shall be rangebound for the day. Tomorrow, closing will be range bound to negative. On 26th, it is the solar eclipse and Mars-Uranus conjunction. Jupiter-Uranus square will be formed on 3rd March 2017. The solar eclipse on 26th which will lead the market to a considerable correction. This correction shall continue till March 2017. The top being made recently in equities is the top of 2017. Market is getting ready for a big correction. These conjunctions are indicators of man-made or natural disasters in the time ahead. A big scam might just open up, which will adversely affect global equities. The best strategy is to accumulate put options in S&P500.
The upcoming trend in Bullion and Copper:
Bullion shall be positive for the day. Next day shall also be positive. Profit booking may be observed at higher levels. In next week, bullion may undergo a big breakout.
Copper shall be rangebound to positive.
The future of crude oil and natural gas:
CRUDE OIL
Crude oil shall be positive for today and tomorrow. Weekly closing shall be above 54. In next week, a bullish trend is possible. If it sustains above 55 then can go up to 56-58.
NG
NG has reversed from lower levels. It shall be moving in positive direction. In next week as well, upward trend is possible. April contract of NG can shoot up to 3.20-3.50. Positional trader shall use S/L of 2.60.
What is next in currencies?
EURO:
EUR/USD shall remain positive. The bottom of EUR/USD has been made.
USD/INR:
Buy USD/INR at lower price. In next week, a breakout shall be observed.
USD/JPY:
Sell USD-JPY at higher levels and hold position for next week - target: 112.
DOLLAR INDEX:
Dollar index shall be bearish in next week.
[Detailed view, trading calls and trading range :: Only for Members]
Send an e-mail to astrodunia@gmail.com or call +91-9669919000 to know more about our membership programs.
Buy:
Sell:
Commodity:
18 February 2017 :
AstroDunia runs a weekly astrology cum philosophy show on Dabang News. You may catch the show live at http://dabangdunia.co/livetv.aspx every Saturday at 07.00 PM.
Thie episode covers predictions about stocks and commodities market for the period of 20th to 26th February 2017.
It ends with a note on effective time management and logic behind why people should stop watching motivational videos.
Don't forget to subscribe to our YouTube channel.
Buy:
Sell:
Commodity:
11 February 2017 :
This episode covers predictions on weather and stock market for 2017's mid February week. Also, it explains how the Indian education system is stuck with age old content that needs severe updates. Students can overcome depression with self-condience.
Subscribe to our YouTube channel
Buy:
Sell:
Commodity:
<<< Past Records
About us
Astrodunia officially registered as MAA ASTRODUNIYA PRIVATE LIMITED, incorporated in the year 2005 provides masses with various top priority and quality astrological reports, analysis, services and tips for trading in the financial segment such as stock market and commodity market across the globe.
The firm also has experience as a stock and commodity broker in the year 2006-2010. The accuracy of tips provided by astrodunia.com has been about 92%.
Our Services
Astrodunia.com provides various services that help people to tackle daily life problems.
Copyright © 2001-2012, astrodunia.com. All rights reserved by MAA ASTRO DUNIYA PRIVATE LIMITED